Connectech maintains affiliations with key technology partners whose products and solutions we recommend to our clients.
When you make a purchase using one of the affiliate links below, you are purchasing directly from that company, and the company's normal warranty applies. There is no additional cost to you, and Connectech will receive a small commission on the purchase. We thank you for your support!
Apple
Purchase any Apple device — Mac, iPhone, iPad, iPod, accessories, or more — directly from the Apple store.
DreamHost
DreamHost is our recommended domain registrar and hosting company, providing free private registration and Letsencrypt SSL certificates with unlimited hosting packages.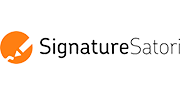 Signature Satori
Set unified, centrally-managed Gmail signatures for your entire company in minutes. Use predefined templates with no need for complex configuration.
CrashPlan
CrashPlan is a backup solution for Macs, PCs, and Linux devices. Files can be stored on a local drive, a trusted computer, the CrashPlan cloud, or all three.
1Password
It's impossible to remember all of your passwords, so a password management program is key. 1Password for Macs and PCs keeps your digital life secure, always available, and safe behind one password that only you know.
Sell Your Mac
Sell Your Mac is a simple, straightforward way to sell your used Mac, iPhone, iPad, or other Apple product. Get a bid from their site today.