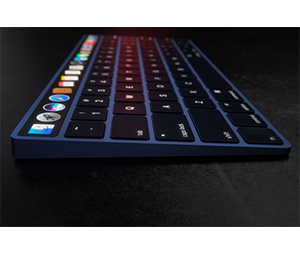 Article by Domain Support
When Apple announced its line of new Macbook Pro models, there was a lot of features that sounded like something you've heard before. The laptop is thinner, lighter, faster, has a better screen, and is made from recyclable materials. That's also true of the Macbook Pro with Retina Display's first announcement in 2012. What's exciting about this laptop is that it has a touchscreen, but not where you would expect. The touchscreen is on the keyboard.
Think about the last time you used the function row of keys on your keyboard (F1, F2, and so on) for anything other than adjusting volume or screen brightness. Many applications used to make heavy use of these function keys, and a few still do today. For most people, these function keys are irrelevant and don't offer any help in the applications they use most often. What is brilliant about having the Touch Bar, a touchscreen OLED display, on the keyboard is that it will change the buttons available depending on what application is active. This has the potential to completely change the way you interact with the applications you use the most in a graphic, intuitive way. Here are a few applications that you probably use quite often, and how Touch Bar will affect your use of those applications:
Finder
When Finder is active, you have access to the contents of your toolbar, like file view and sort options in Touch Bar. Other buttons like Quick Look, share and tag options are also available. Tapping the tag button opens a scrolling list of your tags, allowing you to add or remove tags from the Touch Bar. Tapping on the view button opens a list of sorting options which can be applied to your active window.
Contacts
The options in the Touch Bar are specific to the contact that you have open and active in the Contacts app. With your friend Alex selected in Contacts, you are given shortcuts to call, iMessage, and FaceTime call Alex. You can even add new fields to the contact such as a new email, physical address, birthday, or phone number by tapping the available shortcuts.
Calendar
When the Calendar app is open, the Touch Bar shows a scrubber that reflects the date view you have enabled. If, for example, you are viewing your calendar by the month, the scrubber will show different months you could easily with to. When you click an event, Touch Bar adapts and shows what can be done with that event, such as adding a location, or the time, or even inviting someone to the event.
Safari
If you use Safari to browse the web, then you probably use tabs already. In a single window, you can have a tab for news, a tab for weather, a tab for your eBay bid you're watching closely, and a tab for that cat video your friend emailed you. Touch Bar represents those open tabs with tiny thumbnail previews of each open tab, making it easy to select (and remember) which tabs you have open. Touch Bar also dynamically adapts to what's happening on the webpage. That cat video you had open in the Safari window changes the Touch Bar to playback controls, allowing you to play, pause, or move to a particular part of the video right in the Touch Bar.
Mail
In Mail, Touch Bar will look at the particular message you have selected and present you with actions like replying to that message, throwing it into junk, or moving it to a particular folder you've already set up. An exciting feature of Touch Bar is that the computer will begin to learn familiar usage patterns and start to make suggestions on the Touch Bar about where to move mail messages.
Photos
This is an exciting application to use with the Touch Bar. There are viral district views on the Touch Bar that pop up as you explore your photo library, the first of which is the library view. In this view, you're able to see a photo scrubber that lets you move between thumbnail previews of your pictures. Editing pictures is broken up into different views as well, with distinct sliders and thumbnail previews for filters, color, and light.
Those are just a few applications that will be taking advantage of the Touch Bar right away. There are many more, and no doubt third party developers will want to take full advantage of the Touch Bar for their own apps. Adobe is already been pursuing integrating the Touch Bar into Photoshop, and no doubt the rest of their software will follow. Keep checking your inbox for more tech articles in the next Connectech Newsletter. We wrote about the new MacBook Pro with an earlier post.