Article by Domain Support
So should you upgrade to the iPhone 7 or if you are an Android user should you switch? The Apple iPhone 7 has some cool new features worth considering. First, the camera, with optical image stabilization (reduce blur associated with motion and handshake with a sensor that helps the lens counteract even the tiniest movement, allowing for up to 3x longer exposure compared to iPhone 6s), Quad-LED True Tone flash (Four smart LEDs flash 50 percent brighter than iPhone 6s. The flash adjusts according to the color temperature of the environment, resulting in sharper, more brightly lit photos), an ƒ/1.8 aperture (a larger aperture allows up to 50 percent more light onto the camera sensor than iPhone 6s, further enhancing the camera's ability to take superb low-light photos), and a six-element lens to make it even better for shooting photos and videos in low light and advanced new features like wide color capture:
Video
iPhone 7 lets you shoot video in 4K resolution — with over 8 million pixels. And you can edit your video in iMovie, then share it instantly. Slo-mo video (support in 1080p and 720p HD) makes your favorite moments last even longer. Capture footage at dynamically selected intervals to create a time‑lapse video that's quick and easy to share.
7MP front-facing camera
The FaceTime HD camera is not only higher resolution, but it also uses wide color capture. So now you can take sharper and more vibrant selfies. The Retina Flash matches the ambient light for a shot with natural-looking skin tones.
Image Signal Processor
The improved Apple‑designed image signal processor built into the A10 Fusion chip. When you take a photo or video, the ISP powers over 100 billion operations and even uses machine learning to make your images look amazing. Other improvements include faster focus and improved local tone mapping and white balance.
Photos App
The Photos app offers tools that let you find, share, and remaster your photos in entirely new ways. And the Memories feature uses advanced search technology to sort your photos into albums and movies for you to enjoy.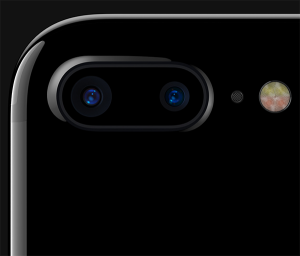 iPhone 7 Plus Camera
Two cameras that shoot as one with the same 12MP wide-angle camera that's on iPhone 7 but also a 12MP telephoto camera that can get even closer. That means you can get higher-quality zoom from farther away. And with an all-new depth-of-field effect (coming soon), portrait shots. The dual-camera system with this breakthrough ISP technology on iPhone 7 Plus, let's you now get supersharp close-up photos and videos with optical zoom at 2x. And you can get even closer with improved digital zoom that lets you shoot at up to 10x for photos and 6x for video.
Depth-of-field effect
Depth of field allows you to keep faces sharp while creating a blurred effect in the background. When you take a shot with iPhone 7 Plus, the dual-camera system uses both cameras and advanced machine learning to make your subject sharp while creating the same out-of-focus blur in the background — known as the bokeh effect — previously reserved for DSLR cameras. So no matter what's behind your subject, it's easy to create a great portrait.
Splash, Water and Dust Resistant
Rated IP67 under IEC standard 60529
Retina HD Display
The iPhone 7 display uses the same color space as the digital cinema industry, so what you see will be noticeably more brilliant and vibrant with a wide color gamut including cinema‑standard colors, 25% brighter than a 6s with 3D Touch. The iPhone 7 Retina HD Display is 4.7 inch with 1334 x 750 resolution. The iPhone 7 Plus Retina HD Display is 5.5 inch with 1980 x 1080 resolution.
A10 Fusion Chip
The new A10 Fusion Chip is twice as fast as iPhone 6 and uses an all-new architecture that enables faster processing when you need it, and the ability to use even less power when you don't. This allows the longest battery life ever in an iPhone.
Capacity
iPhone 7 doubles the capacity of iPhone 6s across the line to 32GB, 128GB, and 256GB.
Stereo
iPhone 7 comes with stereo speakers, delivering two times the audio output of iPhone 6s and increased dynamic range.
EarPods
iPhone 7 comes with EarPods that have a Lightning connector. But if you still want to listen through your old headphones, you can plug them in using a 3.5 mm headphone jack adapter, also included.
AirPods
The new AirPods are wireless headphones that combine crystal clear sound with a new sense of freedom and provide rich, high-quality AAC audio. The AirPods are driven by the custom-designed Apple W1 chip. It produces extremely efficient wireless for a better connection and improved sound. And the W1 chip manages battery life so well, you can listen for 5 hours on a single charge. A voice accelerometer recognizes when you're speaking and works with a pair of beamforming microphones to filter out external noise and focus on the sound of your voice. Optical sensors and motion accelerometers work with the W1 chip to automatically control the audio and engage the microphone, giving you the ability to use one or both AirPods. They also enable AirPods to play sound as soon as they're in your ears. AirPods connect automatically with all your Apple devices. They're simultaneously connected to your iPhone and Apple Watch, and sound switches instantly between the devices. Want to listen to your Mac or iPad? Just choose AirPods on those devices.
AirPods Charger
AirPods deliver an industry-leading 4.5 hours of listening time on one charge. And they're made to keep up with you, thanks to a charging case that holds multiple additional charges for more than 24 hours of listening time. Need a quick charge? Just 15 minutes in the case gives you 3 hours of listening time. To check the battery, hold the AirPods next to your iPhone or ask Siri "How's the battery on my AirPods?"
Wi-Fi and Cellular
iPhone 7 features LTE Advanced (supports Voice over LTE), with speeds up to 450 Mbps for data downloads — over 50 percent faster than iPhone 6s and three times faster than iPhone 6. And thanks to even more LTE bands (25 bands), you'll have the best worldwide roaming available in a smartphone. Wi-Fi calling provides an easy way to make and receive calls over a Wi-Fi connection.
iOS 10
iPhone 7 comes with the world's most advanced mobile operating system. For more info click here.
Colors
Available in jet black, black, silver, gold, and rose gold