Apple has announced an upgrade to the 2016 MacBook 12 inch and the MacBook Air 13 inch models, a full‑size experience into the lightest and most compact Mac notebooks ever. As TechRadar reports, "Two qualities stand out above all else when it comes to the new MacBook: thin and lightweight."
MacBook 12 inch
A sixth‑generation Intel Core M processor (1.1GHz m3 or 1.2GHz m5 dual-core processor is 15 to 20 percent faster and runs on just 5 watts of power), improved graphics performance (25 percent with Intel HD Graphics 515), faster flash storage (256 GB or 512 GB PCIe-based onboard flash storage), 13.1 mm thin, 2 pounds, 12 inch Retina display (2304 ×1440 resolution and 16:10 aspect ratio), 8GB of 1866MHz LPDDR3 onboard memory,  USB-C port (speedy USB 3 data transfer, a single port lets you connect your charger; HDMI, DisplayPort, and VGA displays), video output, 480p (a low-resolution) FaceTime camera, a thinner full-size keyboard (each key has its own LED light and is flush with the body), trackpad with Force Touch trackpad, the latest Wi-Fi and Bluetooth wireless technology, 3.5 mm headphone jack, Stereo speakers, Dual microphones, and up to 10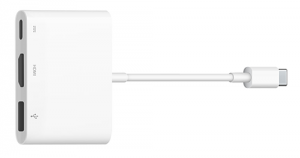 hours of battery life.
The Retina display is over 3 million pixels that renders each letter with crystal clarity while the aluminized body comes in silver, gold, space gray, and all-new rose gold. Since little energy is used and the system generates very little heat no fan is required to cool the computer making it quiet. Starts at $1299.00.
With only one port (USB-C) if you need connectivity to other devices for monitors, games, etc., this will be limiting. You may need a USB-C Digital AV Multiport Adapter ($79), which has a power port, USB 3.0 port and HDMI port. Apple sells other adapters, including a $25 USB-C-to-Lightning cable (for iPhones and iPads) and a $19 USB-C-to-USB cable (for cameras and other USB devices). For just a little more money the MacBook Pro allows much more connectivity and even faster processors. Also we prefer the Mag Safe Power magnetic adapter over charging through the USB cable. We understand having only one port makes the new MacBook 12 inch thinner, many power users may not appreciate having to add an adapter to be able to plug into a device needed to work or play.  Mark Spoonauer's review of this laptop writes, "It's significantly faster, especially if you opt for the Core m5 model, and it lasts an hour longer on a charge, all while being extremely portable." As reported by Time, "Apple's thinnest laptop is fast and capable, but its lack of ports can be limiting," and comments, "Apple fans looking for a highly portable laptop who don't use a lot of accessories or connections." The article concludes, "Users who store most of their data in the cloud and don't frequently plug their laptop into external monitors tend to value portability over connectivity. And as frustrating as a new standard might be, USB Type-C will be a big improvement when its time comes." In conclusion, if you are able to store most of your work on the cloud, rarely connect to other devices and need portability with the sleekest and best display available choose the new MacBook 12 inch.
https://www.youtube.com/watch?v=5-e7NFINJas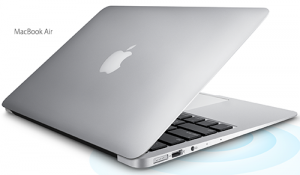 MacBook Air 13 inch (also comes in 11 inch for $899)
New fifth-generation dual core Intel Core (i5 1.6 GHz or i7 2.2 GHz) processors, Intel HD Graphics 6000, 13.3‑inch (diagonal) LED‑backlit display, thin 0.68-inch unibody design that weighs only 2.38 pounds, battery that lasts up to an incredible 12 hours (11 inch lasts up to 9 hours), latest 802.11ac technology, up to 512 GB Flash storage, and starts at $999.00.