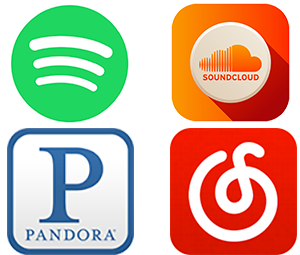 Article by Domain Support
What is a streaming music service? Just as NetFlix offers movies and TV shows for a set monthly price, a streaming music service does the same for music falling under the heading 'streaming media.' This has grown in popularity and is now fairly accepted as mainstream, but some are still purchasing music the old fashioned way of one title or album at a time by either a hard copy, CD (or DVD) or digital downloads (i.e., MP3, AAC, MPEG-4, etc). As Consumer Reports, notes, "Earlier this year, members of the Recording Industry Association of America reported that music streaming services now represent their biggest source of revenue, edging ahead of digital downloads, CDs, and vinyl records in sales." c/net put it this way, "Like CDs before it, MP3s are becoming obsolete. Today, streaming is king." Spotify is probably the most well-known streaming service.
According to Wikipedia there are 71 streaming music services available. With so many to choose from, which music streaming service should you choose? First let's narrow this large field to the most popular ones. According to Wikipedia, Soundcloud comes in number one with over 175 million [m] users, followed by Spotify (100 m), Pandora (77 m), Netease Cloud Music (55 m), iHeart Radio (48 m), Slacker (26 m), Guvera (17 m), Apple Music (>15 m), Saavn (11 m), and Amazon Prime Music (<10 m) which are the top ten music streaming services. Depending on what you want in an streaming music service, which one is the best has a lot to due with personal views, the cost, features (how many artists and songs available), and ease of use (voice recognition software such as Siri or Echo).  Pandora, Slacker Radio, TuneIn, iHeartRadio and other services only play music in a radio format or play music stations based around a theme or artist, without you explicitly picking tracks.
Why is Soundcloud so popular? Gizmodo explains, "You can upload all the sounds you want, follow people to listen to the sounds they're posting, and save or repost them. It's music interaction and discovery distilled to its purest form, home to just as many famous artists as ones that will be soon. It's as close to indispensable as you get on the internet today….It's where music lands before it lands on Spotify, before it hits iTunes, before anywhere else at all."
To pick which one is the best music streaming service is difficult since as Tech Advisor from IDG puts it, "We think it's worth giving a few of these services a go with the free trials before subscribing, as it's really down to personal preference which one you'll prefer. They have many, many similarities so it's those small differences that'll help you make the decision between them."
Google Play Music (includes YouTube Red) is a late entry into this service, as well as Amazon Music Unlimited which came out this week. Forbes, in its article about Amazon Music Unlimited had this to say, "it's good to have another deep-pocketed competitor in the streaming music space, since it was starting to look like a two horse race with Spotify and aforementioned Apple Music.
Amazon, Apple and Google all offer family plans, and c/net offers an article letting you choose which one is best for your family. Spotify added their family plans in mid 2016 to stay in the competition.
The NY Times wrote an article on their picks for streaming music but left it up to you which one to choose.
c/net, wrote an article, 6 things to consider when choosing a streaming-music subscription, and another article, Spotify, Apple Music, Rdio and Rhapsody: Which music streaming app is right for you?, letting you decide which service is best for you.  Money, basically does the same thing with its article, Which Music Streaming Service Is Best for You? expertreview does a similar comparison and lets you decide. lifehacker narrowed it down to five and lets you choose which one is best. PCMag does a similar review.
Why are there so many to choose from?
Fortune gives this nutshell conclusion, "Of course, this is all a brave new world for the music industry, the first entertainment sector to really feel the brunt of online piracy and try to figure out a transition into a sustainable, hopefully profitable survival."
Android Authority explains what happened: "For well over a decade, the music industry has been trying to figure out the Internet and they have failed more often than they have succeeded. Declining music sales and the rise of free sources like YouTube and Pandora have left a once proud industry in a state of perpetual anarchy. Half of it is trying to adhere to old paradigms like asking for $20 for fully digital albums while others are trying more unconventional methods. The happy medium for now seems to be music streaming. It brings money back into music and gives people quick, unlimited access to the songs they enjoy. For right now, the juggernauts in on-demand music streaming are Apple Music, Spotify, and Google Play Music."
Google Play has over 35 million songs and you can upload 50,000 songs from your personal collection to be able to stream from up to 10 devices and offers a free version. Spotify claims over 30 million songs and, "can also read your locally supported music but you'll have to sync it to your device's internal storage through Spotify's desktop application first," according to Android Authority and offers a free version. Apple Music claims 30 million songs and allows up to 100,000 songs uploaded to iCloud which you can stream anytime on ten of your devices with a three month free trial.
The Artists
The issue musicians have with streaming is how much do they get paid from using their music on a streaming service.
Taylor Swift is one musician who is ringing all the music streaming bells and pulled her music off Spotify. She has also taken on Apple Music for giving all their users a free three month trial and not paying the artists any royalties during the trial period.  Fortune has a comment about the issue of paying artists for the music:
Reviews
However, there are some reviewers who rate which service is "best," best according to the majority of pundits and tech sites.
Android Authority picks the Winner: Google Play Music, Second place: Spotify, Third place: Apple Music.
theguardian, says Spotify is "the best of the bunch for now, especially for music discovery, with new features being added at a rapid pace.
Cult of Mac names Spotify as number one.
Tyler Hayes, The Sweet Setup, writes, "Spotify is currently the best option available for an on-demand streaming music service. It has the features, the users, and the catalog to back up that claim."
Stuff rates Spotify number one.
We Rock Your Web, also "Spotify is the winner of our best music streaming," Apple Music in second place, Rhapsody Review in third place.
Techlicious names Spotify as "Best All-Rounder."